FBI Victim Assistance Program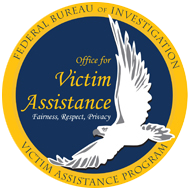 Source: FBI Victims of Crime brochure
The FBI's Commitment to Victims of Crime
Each year, the FBI investigates thousands of crimes involving hundreds of thousands of victims, including many child victims. These crimes result in great harm to individuals, families, and communities. Individuals impacted by crime face the daunting task of rebuilding and healing from loss while navigating the criminal justice system.
Federal laws protect victims of Federal crime and provide them with a voice during the investigation and prosecution of their case. In addition to being treated with fairness and respect in regards to dignity and privacy, the rights of Federal crime victims as they relate to the FBI's responsibility within the investigative phase of their case, as outlined within 42 United States Code §10607, also include:
The right to be informed of the place where they may receive medical and social services;
The right to be informed of public and private programs that are available for counseling, treatment, and other support services;
The right to receive reasonable protection from a suspected offender and persons acting in concert with or at the behest of the suspected offender;
The right to know the status of the investigation of the crime, to the extent it is appropriate and will not interfere with the investigation;
The right to notification regarding the arrest of a suspected offender; and,
The right to have any property that is being held for evidentiary purposes be maintained in good condition and returned as soon as it is no longer needed for evidentiary purposes.
Links